The Tote
This structured shape is a beloved go-to, and an effortless plus one for any outfit. As the roomiest of handbags, a classic tote also provides a sense of being prepared for anything because it takes everything thrown in it, from wallet to water bottle.
PHOTO CREDIT: FOSSILCome for the striking graphic, stay for the full zip closure.
Fossil Rachel Tote, $168 at Hudson's Bay.
PHOTO CREDIT: LACOSTETexturized leather in a juicy hue with handy exterior pockets? It's a win-win-win.
Chantaco Piqué Leather Zip Pockets Tote Bag in Mineral Red, $350 at Lacoste.
PHOTO CREDIT: GUESSSay yes to a tote with bonus features, like a detachable outer pouch.
Sienna 2-in-1 Tote in Red, $145 at Guess.
PHOTO CREDIT: BANANA REPUBLICFrom silhouette to shade, this one's an all-around stunner.
Portfolio Knotted Italian Leather Tote, $195 at Banana Republic.
PHOTO CREDIT: SHUTTERSTOCK
The Cross-Body
Worn across the body, this bag earns praise because it lets you operate hands-free. A wide range of sizes and styles mean there's no shortage of appealing options, from ultra-compact to strikingly embellished.
PHOTO CREDIT: COACHSpread your style wings with intricate embellishments and an elegant shape.
Tattoo Feed Bag, $570 at Coach.
PHOTO CREDIT: BANANA REPUBLICRummage with ease thank to a circular flat-bottom design.
Bucket Crossbody, $145 at Banana Republic.
PHOTO CREDIT: GUESSA lengthy strap leads to options on the go with this 2-in-1 satchel.
Sienna Society Satchel in Snake Skin, $140 at Guess.
PHOTO CREDIT: MICHAEL MICHAEL KORSGuaranteed to add a rock-chic note to any look.
Whitney Large Mixed-Media Convertible Shoulder Bag, $478 at Michael Michael Kors.
PHOTO CREDIT: SHUTTERSTOCK
The Top-Handle
When it's sophistication you long for this bag delivers. Fold-over styles carry a distinctly retro charm, while a modern take can be found in silhouettes featuring clean lines. The refined finishing touch of a top-handle bag will always elevate a look. Now that you've got shopping on the brain.
PHOTO CREDIT: ALDOBecause a lil' leopard print never hurt anybody.
Cadiawien, $55 at Aldo.
PHOTO CREDIT: ECCOClean lines and an unexpected colour make for a stylish duo.
SP 2 Medium Doctors Bag, $345 at Ecco.
PHOTO CREDIT: ROOTSPrepare for long term love: this supple leather only get better with age.
Hailee Drawstring Bag in Natural Tribe, $348 at Roots.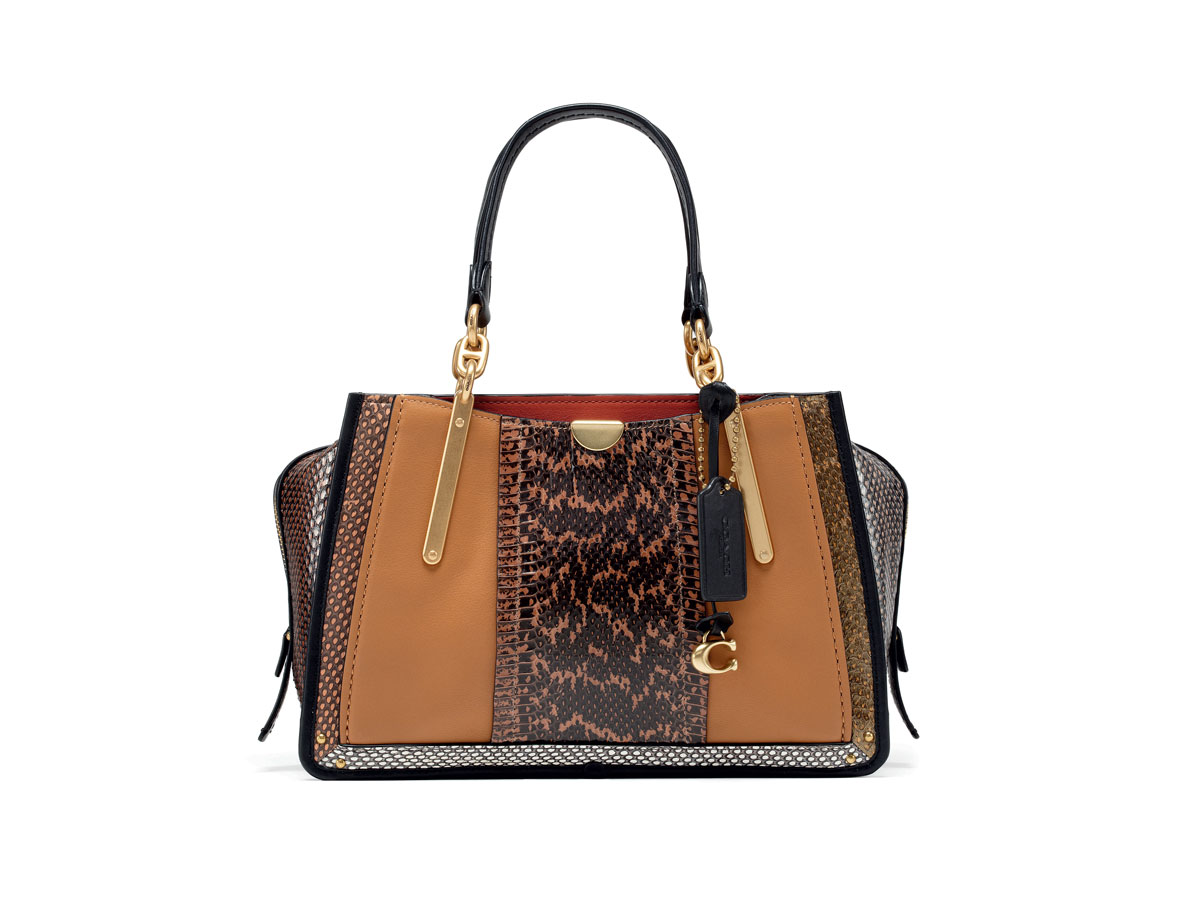 PHOTO CREDIT: COACHBoasting a mix of materials turned out in an eye-catching shape, this investment handbag makes a lasting impression.
Colourblock Mixed Materials Dreamer, $800 at Coach.
PHOTO CREDIT: SHUTTERSTOCK
The Backpack
There's a blissful sense of being unencumbered that only a backpack can provide. Your hands are free, you can slip through a crowd, and all your necessities are secured within easy reach. When a non-bulky shape joins forces with a pleasant hue or texture, casual meets chic for an essential that's brilliant for traveling near, or far.
PHOTO CREDIT: ALDOStand tall with refined details and a compact shape.
Borgoforte in Cognac, $60 at Aldo.
PHOTO CREDIT: ECCORoomier than meet the eye, plus has clever details like an internal key ring.
SP3 Backpack, $320 at Ecco.
PHOTO CREDIT: TAIKANMultiple compartments, including a 15-inch laptop sleeve, all wrapped up in luxe Italian suede.
Spartan in Black Suede, $530 at Taikan.