When you are going to work, it becomes a little difficult for you to decide which jewellery you should wear.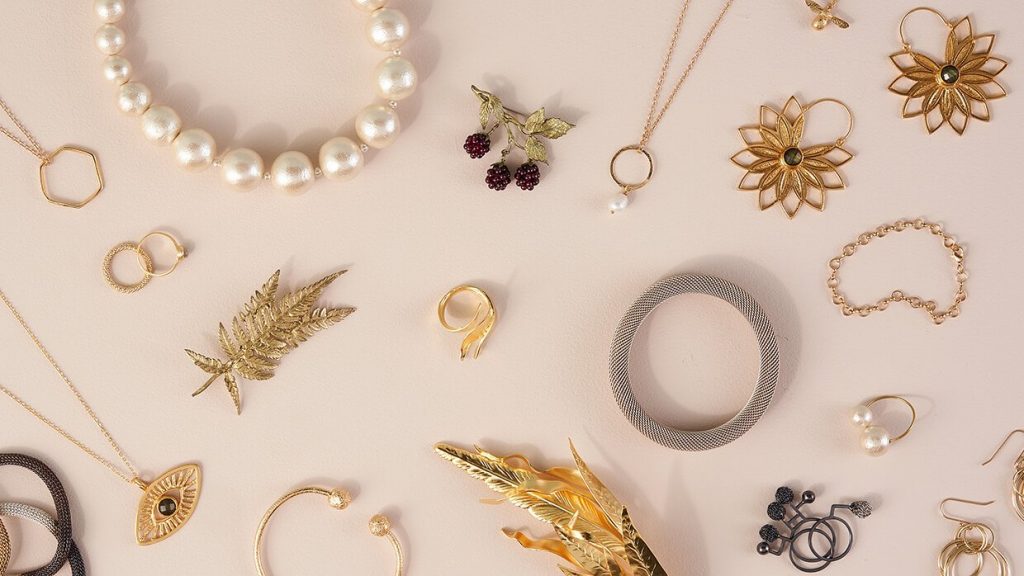 It becomes the biggest problem for every woman, No matter how much you love jewellery, you don't want to look awkward because of wearing too much jewellery to the office.
If you don't wear so much jewellery, then minimal jewellery can be made for it. 
Are you also the one who is confused about which type of jewellery you should prefer to wear while going to the office? 
So, here we are telling you about 8 such jewellery pieces, which you can easily wear to the office.
This will not only make your style amazing but also give you a stylish look. In this way, your daily simple outfit can be made into an elegant one, and your look at the workplace will also look awesome.
Charming Bracelet
Number one in this is the stylish and charming Bracelet.
It looks very beautiful. If you wear it to the office, then everyone's eyes are sure to be fixed on you.
You can wear a Rose Gold-Toned Stainless Steel bracelet, this will give your hand movement a rocking look.
You can also wear a classy diamond bracelet to your workplace, it will give a confident look to your simple attire.
Stud pair of earring
Any look is incomplete without a pair of earrings! Whether it is an occasion, a festival, or a workplace, wearing a pair of earrings will enhance your entire look.
The platinum plate earring can also prove to be the best for your simple office look.
There are also many types of floral designs made in silver colour.
If you go to the office wearing these stud pair of earrings, then it will add to your beauty.
You will not feel any awkwardness while working in the office and at the same time your look will also stand out from the rest.
Beautiful hand ring
Rings are those mini jewellery pieces that serve a pretty look to your daily outfit.
A butterfly motif with rose gold-tone rings adds an extra beauty to your look.
Moreover, you can also wear a ring that has a single and delicate diamond, it will also enhance your look. 
Apart from this, if you are a die-hard fan of gold jewellery then exploring minimalist latest gold ring designs for girls and choosing the most suitable one also would be a great alternative.
Once you wear it, people in the office will appreciate it.
Therefore, if you are fond of wearing rings while going to the office, then you should try them at least once.
Splendour watch
Wearing a watch is common, but while going to a workplace wearing a beautiful one will complete your look.
After wearing it, you get a unique look. Its speciality is that it will fulfil the need of wearing jewellery, along with this it is also helpful in seeing time.
Wearing a stunning watch will give you a perfect office look.
You should wear a watch while going to your workplace, it has its importance.
Touch of pearls 
Pearl jewellery is one of the most feminine jewellery pieces in the world. They are always relevant and never go out of style.
Pearls symbolize loyalty in love, purity, and cheerfulness.
An elegant decoration with pearls on any jewellery will add charm to the female image.
The various colours and sizes of pearls will surprise your officemates. 
The pearl drops earring will look very beautiful while going to the office.
Classy necklace
Wearing a trendy design of the necklace is considered the symbol of elegance and simplicity as it enhances your beauty by draping around your neck in a very simple way.
You can wear it to match any outfit.
You can also wear a charm necklace, The speciality of this charm necklace is that you can wear it with casuals and for fun.
The elegant design makes it a perfect office wear necklace that suits everyday outfits.
Single  Anklet
For your casual office outfit, an anklet completes your look.
A stylish anklet adds to the beauty of your feet.
Wearing a single diamond anklet gives you a trendy look.
Oxidised Jewellery
If you have made up your mind to wear Indian wear, especially a saree, over office wear, then the best way to enhance your look is to pair it with oxidized jewellery. 
You can make oxidized bangles to earrings and neckpieces a part of your look.
However, also make sure that you do not overwear oxidized jewellery.
If you style yourself with the help of the right accessories, then your office look looks very cool. Not only this, but it also does not make your look unprofessional.
So follow the tips that will help you to select the perfect jewellery for your office wear. Your simple and boring outfit can be turned into a rocking one, just by following the above-mentioned tips.