According to an AARP survey, more than 76 percent of Americans age 50 and older say they would prefer to remain in their community. About 77 percent replied that they'd like to stay there as long as possible.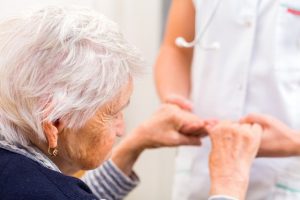 Therein lies the challenge for many older Americans and their loved ones: what to do when living independently is no longer safe or viable? There are a lot of senior care options out there. Making the right decision amidst the flood of information can feel overwhelming.
Fortunately, there are some helpful ways of narrowing down the choices. If you or a family member are considering senior care options, keep reading. The information below will help you navigate the complex world of eldercare so that you can make the best decision for yourself and your family.
Home Care vs. Assisted Living
Assisted living facilities offer housing, health, and other support services for seniors who are unable to live independently. Most places include meal services; medication management; housekeeping and laundry; and social activities.
Home health can include a myriad of senior services. Most involve some combination of meal preparation, housekeeping, bathing, dressing, or other forms of personal help, at the individual's residence.
Both in-home care and assisted living come with advantages and drawbacks. Which option is best will depend on what your loved one needs and wants.
Assisted Living Benefits
Assisted living facilities may be beneficial for someone who is having trouble with many different aspects of daily life. Most places have tiered services based on level of independence and healthcare needs. So, if your loved one has temporary medical issues, like recovering from surgery, they can access nursing care then return to independent living when they are ready.
Assisted living also offers a community. Social and recreational activities can help a person's mind and body stay strong longer, not to mention providing motivation to remain active and engaged with others.
Also, note that most people think of an elderly home as a long-term option. There are though facilities available for temporary assistance.
Home Health Benefits
Perhaps the most obvious advantage of home health care is the ability of your loved one to remain in their home. It affords independence while providing companionship and assistance with day-to-day chores and activities.
Another big advantage of home care services is customization. If your family member only needs help remembering to take their medication or a few minor chores around the house, then at home care may be the best option. It allows you to select the type and duration, as well as the day and time, of the help provided.
A Note on Cost
There can be a lot of confusion in comparing home health and assisted living costs. That is because there is a lot of variation in each type of senior care.
The median monthly cost for an assisted living facility is almost $4,000 for an individual, although this includes housing. The cost of home health care can be anywhere from a few hundred dollars to several thousand a month, depending on what services you choose.
Learn More About Senior Care Near You
Now that you have an idea of some senior care basics and some of the options available, you can decide which is best for your loved one. We hope you found this information on elderly care useful. If so, be sure to check out some of our other posts on health, lifestyle, beauty, and many other topics.