Raves are an opportunity to truly let loose and have fun. It's important to choose an outfit that is both comfortable to dance and jump around in, as well as confidence-boosting. Throwing on something sexy will not only look great on Instagram but will help you slay the dance floor. Whether you're looking to venture outside of your comfort zone or just need some new ideas, continue reading for some great outfit inspiration.
Factors to Consider
Prepare to Be Hot (Literally)
Regardless of how much skin you're comfortable showing, it's important to remember that raves tend to be jam-packed with sweaty dancers. Whether you're crowded inside a building or suffering through the summer heat, you'll probably be experiencing some pretty high temperatures. It's vital to choose clothing that pairs well with extreme heat. Don't wear anything too tight and avoid too many layers. Both decisions could result in heat exhaustion, which would not make for the best rave experience.
Wear Your Dancing Shoes
When planning a sexy outfit, most women tend to think of high heels or various other uncomfortable choices. Unless you are a superhero who can dance for hours and hours on your toes alone with minimal support, don't. There are plenty of sexy shoe choices that also come with plenty of support. From thigh-high boots to chunky sneakers, there's an array of alluring options that'll keep your feet happy without sacrificing appearance! It's also a good idea to break in whichever pair of shoes you choose before the rave. Even the comfiest shoes can cause discomfort if not broken in first.
Brighten Up the Room
Raves are an excuse to throw on bolder colors than you usually wear. Shop various shades of neon that you probably wouldn't find in your closet otherwise. While there are a plethora of reasons to attend a rave, an important one is an excuse to step outside of your normal routine. Everyone is going to dress up in a fun way—stand out with them using bright and vibrant colors!
Add to the Light Show
Raves are also known for amazing light shows. With high-tech LEDs, moving lights, and dynamic shows meant to pair perfectly with the music, wouldn't you like to be a part of it? Incorporate some reflective rave clothing into your overall look for a truly mesmerizing effect that'll come to life with the music. Another perk? You'll be hard to miss! If you're worried about losing your friends in the crowd, make sure you'll be easily spotted. Illuminate the dance floor and become part of the rave itself! 
Embrace a Character
Everyone has a favorite book, comic, or movie character whose style they're jealous of. Maybe you can't dress like them in your daily life, but raves are a great excuse to switch up your style. Moreover, if you're totally lost on outfit inspiration, Google some popular characters and see if you get any good ideas! You could aim for a princess-inspired outfit with some incredibly decorative accessories, or you could dress as the sexy super spy your younger self dreamed of becoming. Another idea is to embrace your inner celebrity and dress like you're famous or walking the catwalk!
Outfit Inspiration
You now know you don't want to wear too many layers, that reflective clothing is in, and your shoes should focus on comfort more than anything else. It's time to actually get some real outfit inspiration! All that's left to decide is whether you're hoping to rock more feminine or more masculine looks.
Feminine Styles
Nowadays, sexy seems to correlate with wearing as little as possible. Luckily, this works well with avoiding too many layers to keep from overheating on the dance floor! Crop tops are definitely a must. If you're willing to be a bit more adventurous, consider sporting some lingerie as your top instead. If you really want to push the boundary of what a "top" can be, stick some fun tape over anywhere you want covered, and show off the rest!
When it comes to pants, you probably don't want to wear too much to avoid trapping too much heat. Skirts and shorts are very popular choices, as well as simply just wearing bikini bottoms. Rompers and one-pieces are also common among rave-goers, but these may cause some trouble when hoping to achieve a quick bathroom break. For those looking to really embrace new styles at a rave, consider more creative pants. Many women will sport various forms of see-through bottoms which show off more style without adding heat-trapping layers.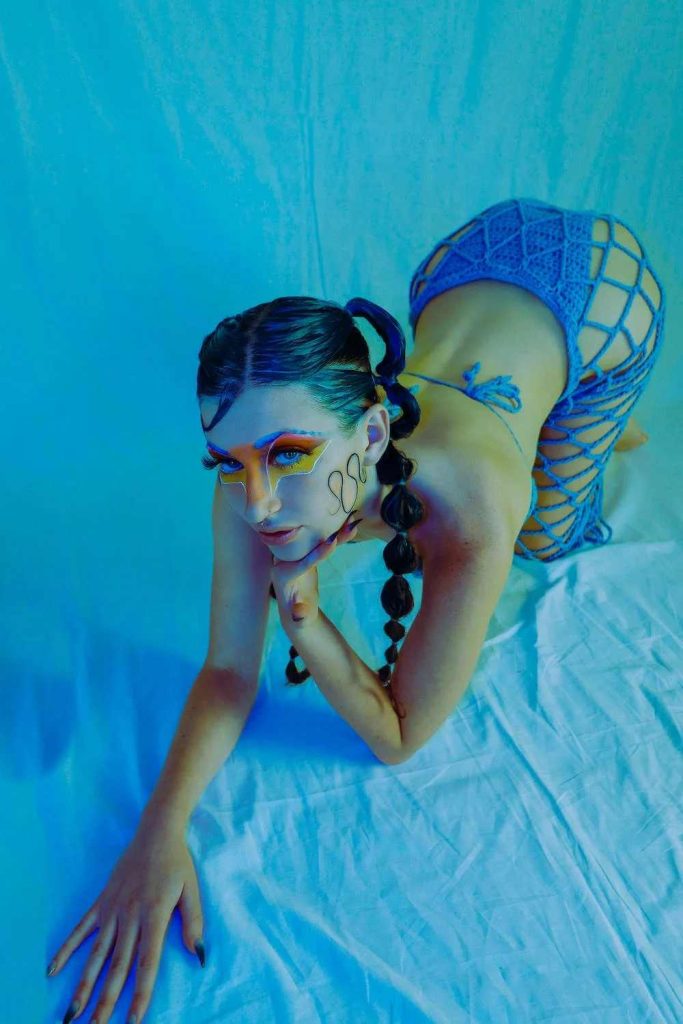 Raves are also a great excuse to play with new makeup styles. Go big, and go bold!
Masculine Styles
Honestly, raves are hot, and sweat stains aren't always sexy. If you're a confident guy, sometimes the sexiest shirt is no shirt at all. Consider throwing on some temporary tattoos or other body art to add to your overall look (if you're worried about seeming lazy). If you do want to wear a shirt, try to find some that either have a looser fit or thin material. There are plenty of see-through shirt options to choose from as well.
For the entire outfit, consider unique patterns you wouldn't normally choose for yourself. You can go the route of a matching set, or have fun playing around with total contrasts! Either way, the goal is to be eye-catching and show off your body in ways normal life may not necessarily allow.
Slay the Day
Overall, the most important part of your rave outfit is going to be whether or not you're comfortable. If you truly want to enjoy the rave, your outfit should be designed to help you stay cool and empowered on the dance floor. Confidence is sexy!