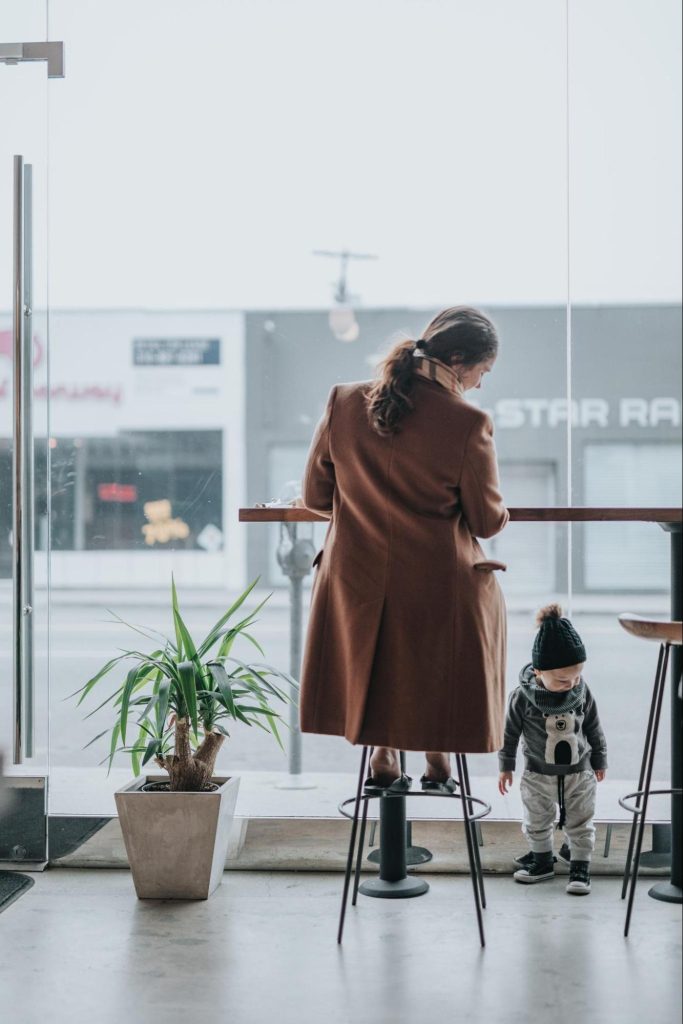 Being a working mom is no walk in the park. You're taking charge of daycare pickups, carpools, grocery shopping, and bedtime, all while managing the stresses of a full-time 9-5. Sometimes the question of what to wear is the last thing on your mind, but you know how powerful a great outfit can be for both yourself and how others perceive you.
Feel great – and look even better – when you style chic outfits day in and day out. Take control of your personal style and show the world your professionalism and poise. Read through to find out how we choose the best outfits for working moms.
Cozy Sweaters
We all know that the office can get cold! When you're heading out the door and forget to dress for your office's sub-zero AC, things can feel pretty bleak. You don't want to be caught without something cozy to wear during the day. Our solution? You'll always be prepared for temperature fluctuations when you have some boutique cardigans and sweaters on hand.
Not only will you look polished in an elevated knit, but you'll also feel comfortable and put together. Sweaters can be worn during any season, and they're versatile enough to be worn for a number of different occasions.
White Blouse
You don't have time to meticulously follow every new trend – you're managing your own busy life and schedule! While it might feel as though you can't keep up with the never-ending cycle of trending clothes, you can absolutely dress in a way that bucks every trend. The best way to navigate the fashion world as a working mom is to choose clothing items that are timeless and will stay in vogue for years on end.
We recommend finding a crisp white blouse. These are style staples that never go out of fashion. They can be worn with anything – pair yours with classic blue denim on the weekends or sleek dress pants when you're headed out to work. 
Polished Blazer
This is the ultimate style piece for working moms. Every working woman needs an effortless blazer. We recommend finding a blazer in neutral colors – such as black, camel, or gray – but you can't go wrong with this versatile silhouette.
Blazers add an extra bit of warmth and even more polish to an outfit. If your office is a bit more casual, you can even wear a blazer with a simple t-shirt for an elevated look. Blazers are structured and make you feel powerful and in charge when you're wearing them. Take a bit of strength from this clothing item and finish your work day with ease.
Comfortable Pants
With all this talk of professional outfits and structured blazers, you might be wondering if there's any hope for comfortable clothes in the working mom's wardrobe. There definitely is! There are countless options for pants and bottoms that look professional but are actually super comfortable.
Look for pants that come in sleek silhouettes and woven fabrics, and have a stretchy waistband for working clothes that can be worn around the house, as well. Chase after your toddler or take your little one to the park with no problems. Stay comfortable from morning until evening in work pants that look great and feel even better.
Chic Flats & Accessories
Now that you have a great professional capsule wardrobe going, it's time to add a few essential accessories to complete your closet. Accessories are a good way to engage in new trends, look more youthful, and easily stay up to date. First, you'll want to find comfortable and fashionable women's flats. These can be worn with pants, skirts, or dresses. They're easy to wear but look elevated enough to be worn to a nice dinner or a regular day at the office.
You should also consider a vegan work bag. Not only are these sustainable, but they're also fashionable and versatile enough to fit anything you need in them. Never forget something essential when you have an attractive and useful work bag.
Combine Comfort & Style
While balancing your work life and life as a mom might seem tough some days, there are ways to have it all. Planning, organizing, and being on top of your schedule is the first step – and don't forget to engage in enough self-care.
You can easily look good, put together, and professional as a working mom. Don't let anyone tell you otherwise! Impress your boss, coworkers, and even your babysitter with outfits that are classic and elegant.
We hope these styling and outfit tips have helped you find inspiration for how to dress well while remaining comfortable. Being a mom is a rollercoaster, and looking fashionable should be the least of your worries. With a bit of planning and thought beforehand, you'll have a wardrobe of outfits that you can throw on without a thought.
About the Author: Tess is an artist, freelance writer, and content strategist. She has a passion for yoga and often writes about health and wellness, but also enjoys covering the fashion industry and world of fitness.