Do you want to easily attract new customers to a thoughtful and beautiful bouquet? Then you're in the right place.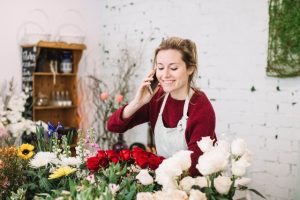 The flower industry has created a lot of jobs and generated big revenue. Getting your business in on the action couldn't be simpler. And with so much demand, having a beautiful floral display will ensure your business never looks empty.
So what types of flowers make the best sales? We're glad you asked. Below you'll find some of the most profitable, best-selling flowers for your flower shop.
1. Roses
Roses are the best-selling flower for your shop because they are associated with elegance and romance. They make a classic statement, and their unmatched beauty is sure to draw customers in.
Roses come in a vast array of colors, sizes, and bloom types, making them easy to accessorize and match with any decor or vase. They are universally loved and popular, with a range of meanings in different cultures. Learning about Ecuador roses and other countries can give you an advantage over your competitors.
2. Gerbera Daisy
Another flower you can have in a flower shop is Gerbera daisies. They are a popular choice for bouquets, centerpieces, and other wedding and party decorations.
When it comes to color, these cheerful blooms have it all with vibrant yellows, oranges, pinks, purples, and even mixed colors. Their flower heads are large and sturdy, offering a longer shelf life than other flowers. Many people buy flowers like Gerbera Daisy for it's their beauty and diversity.
3. Lilies
Lilies are a popular flower to purchase, and they make great additions to any flower shop. Lilies are easy to grow and come in a variety of shapes, and colors. White lilies are particularly sought-after since they are a symbol of peace, purity, and chastity.
On top of that, many people find the smell of lilies to be pleasant and thus buy them to enjoy the aroma. Additionally, lilies are a great flower to include in bouquets and other flower arrangements. Many couples purchase flowers like lilies because its better suited for weddings.
4. Tulips
Tulips are one of the best wholesale flowers you can have in any shop. They add elegant beauty to any setting and are easy to care for. The wide variety of colors and shapes of tulips give the customer a vast selection to choose from.
They bloom early in the season and can last up to several weeks if properly cared for. Tulips look best planted in groups of complementary hues to create a showy effect.
5. Orchids
Orchids are one of the best flowers to have in a successful flower shop. They are very elegant and add beauty to any flower arrangements, making them a popular choice for all occasions.
They are known to be very resilient and long-lasting, making them a sensible and affordable choice for your customers. Orchids come in a wide range of colors and varieties, which makes them an attractive choice for any occasion.
Choosing the Best Flowers for a Flower Shop
The bestselling flowers for your shop depend on the clientele that your shop will attract. No matter what the occasion or style of your flower shop, there is something that will work well. Consider roses, lilies, carnations, and even tropical flowers to attract customers and increase foot traffic.
Utilizing the right blooms can help to ensure your success as a florist. Start shopping for flowers today to draw in new customers and create stunning arrangements for all your special moments.
If you want to read more interestingly, follow our daily blog post.