Looking for a high-quality gift for Mother's Day? Try perfume! Mother's day can feel overwhelming for those looking to buy the perfect gift. With so many options, how do you decide what to buy? Because smell is one of our most powerful senses, especially when connecting to memory, perfumes are a great gift option.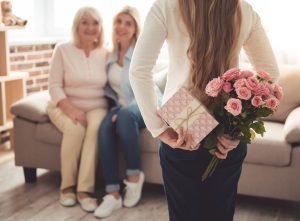 The Best Gifts for Mather's Day
Mother's Day is a universal day to celebrate mothers' sacrifices made to have and raise a child (or children). With at least 85% of women being mothers (per a 2018 study), it is a universal day for many in our society. Because it is so big, there is a massive industry of gifts that has sprung up around the holiday. This can make shopping for gifts feel overwhelming, not only because there are so many options but also because the nature of buying a meaningful gift can feel elusive.
Perfumes are a great Mother's Day gift because of the nature of smell. The smell is a powerful sense that, on an unconscious level, we connect with people and our memories of them. This is because scents go directly to the Olfactory Bulb, which is directly related to the Hippocampus, the brain's main memory center. Perfumes also function as a personal brand, as we connect memories associated with that person with their smell. And what person do we have more intimate memories with than our mother or the mother of our children?
How To Find A Perfume That Stands Out From The Pack
There are so many perfume options out there that it can feel hard to know where to be. It also is a deeply personal gift. Finding a scent as a mother's day gifts for the special woman in your life can be challenging. We've done the legwork for you by finding a wide variety of options, so no matter what the special woman in your life may be, there is a scent that represents her essence and complexity.
When a woman wears perfume, it's a personal statement. A statement of who they are and who they want to be. There are tons of options available, like Chloe Chloe Eau du Parfum, which gives off playfulness and elegance, perfect for a romantic gift. Or choose the strength of Paco Rabanne Olympea, with strong notes representing the ancient goddess in all women and the will to accomplish all their dreams in the modern woman. Finding the right scent as a gift shows how deeply you know the person and shows what attributes you admire in them.
Don't forget to check out the related gifts. There are plenty available that match with the type of perfume you end up purchasing and make great additional Mother's Day gifts. Find matching body soaps, lotions, makeup, and more to give them the full spa-experience treatment on their special day. See some of the best options on the market and show how much you love your mother, wife, or friend this Mother's Day.